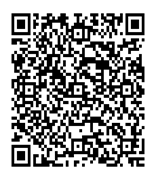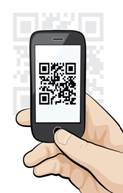 More and more people are starting to associate the codes with action, but never assume your customers will know what to do. Make it a point to spell out how to scan the code. Help instruct customers on where they can grab scanner apps. Also, remember that digital codes should provide some kind of value to the scanner. It may be easiest to direct digital code scanners to your website, but remember that it also can be used to map your location, add your contact information to their phone, and more. Saying something like: "Smartphone interactive, scan here."
can be very helpful.


Introducing DYNAMIC QR Codes (Dynamic Destination URLs)!


We have a special software designed to you can CHANGE the DESTINATION URL of your QR Code image. This means, it's ALWAYS UP TO DATE! Most QR codes are STATIC QR codes and the destination URL that they go to cannot be changed. However, we've designed and written a system for DYNAMIC codes that means the destination can change as you need it to - WITHOUT you having to put in a new QR code image. This means that your QR codes on your print publications or online publications never need to be changed. Ask us about this dynamic service.

Put them on...
On business cards: A fast and simple way to use digital codes for your own professional purposes is to place them on business cards. Generate a barcode that directs scanners to your online resume, small business Facebook Page or your website to help new contacts find you or your business faster.
On marketing materials: You've got fliers, brochures, programs, handouts, whitepapers and a myriad of other materials in your media kit. Add codes to direct viewers to a particular how-to video, get them to follow you on Twitter, or point them to a mobile-friendly landing page that promotes a new campaign. For inspiration, check out what the Detroit Red Wings* did with the codes in their arena programs.
In storefront windows: Google is sending out decals to top local businesses with Google Place Pages.
For freebies: If you really want people to pay attention to your digital codes, make them good for something fun. Say you've placed a code decal in your storefront window, why not reward those who scan it with 10% off their purchase or a free pastry? Give them something small to thank them for their patronage.
For networking events: They provide a quick, reliable way to add contact information to your smartphone.

*The Detroit Red Wings linked their code to a video. In tracking this effort, the Wings have found mobile devices to be the #1 viewing medium fans are using to see videos accounting for an overwhelming 22% of fans viewing linked videos nearly 2,000 times all the way through.

Call us for more information: 405-755-8187 or email us at This email address is being protected from spambots. You need JavaScript enabled to view it.